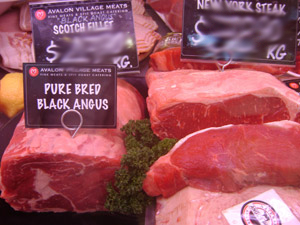 Angus Pure - The Natural Choice
Angus Pure – The Natural Choice is pasture fed, hormone free, and antibiotic free. Angus genetics are renowned for producing cattle with good marbling and high growth rates. These add flavour and make cooking easier and produce beef that is very tender.
Certified Australian Angus Beef (CAAB) CEO said that "Angus Pure is natural Australian beef and like all CAAB product is fully traceable, MSA graded and aged to eating perfection specifications." All the Angus Pure are produced under license from CAAB, which oversees the Angus Pure brand, by T&R Pastoral at Murray Bridge in South Australia.
Free Range Pork - RSPCA Approved
Otway Pigs are bred free-range at their RSPCA approved farms near the Otway Ranges in Victoria. Otway Pork Pigs are fed a natural diet free from added growth hormones and in-feed antibiotics. The pigs are selected for their suitability to outdoors as well as superior meat quality characteristics including leanness, tenderness, and colour. It is all natural and with a natural flavour.
RSPCA Accreditation:
Otway Pork was the first to adopt the RSPCA Approved Farming Scheme which is based on a set of principles known as the "five freedoms":
Freedom from hunger and thirst
Freedom from discomfort
Freedom from pain
Freedom to express normal behavior
Freedom from fear and distress
Tetsuya
Tetsuya is a gourmet chef located in the city and has a wide range his own products.
These include
Vinaigrette for Oysters
Vinaigrette for Salads
Tasmanian Pepper Berries & Honey Vinegar
Truffle Salt
Black Truffle Salsa for Butter
Peter Watson
Peter Watson was born into a family where the rhythm of the seasons dictated the cycle of life – making jam, bottling sauce, preserving fruits and vegetables in season.
Peter claims that the most influential member of his family was his aunt Mon,  who was famous for her preserves.
Peter Watson brand is dedicated to the very best in foods – selected and prepared in ways that are timeless with no shortcuts and no chemicals added.
Batching is kept small to ensure the highest possible quality is achieved with the maximum flavour.
CookBooks
A large range of high-quality cookbooks are now available. These include books like "The Press Club" from George Calombaris (MasterChef), or "The Big Fat Duck Cookbook" from Hesston Blumenthal (one of the most famous chefs in the UK), or "The French Laundry" by Thomas Keller.